The health and safety of our patients and teammates is our top priority. We are keeping a close eye on this situation and reinforcing the extensive infection control practices already in place to protect them. Click here to find videos and additional resources.
Quick and Easy Breakfast Ideas
Quick, easy breakfasts that are healthy are always welcome! If you're looking for a fast breakfast with protein, fruit and a dessert-like taste, look no further. Check out  DaVita's Quick and Easy Apple Oatmeal Custard video for a tasty breakfast recipe in minutes. Try it, then create your own cereal, protein and fruit combination. Other kidney-friendly hot cereals include buckwheat, pearled barley, cream of rice, farina and grits.
If you prefer ready-to-eat cereal, ask your dietitian which cereal best meets your nutrition goals. Check the label for sodium, as it varies widely. While most cereals have between 2-4 grams of protein, there are several brands that have 10 grams or more. Some cereals are iron fortified for those who have problems with low iron. The best cereal choices are free of phosphate additives. Only 40-50% of the naturally occurring phosphorus in whole grain cereal is absorbed, while 90-100% from phosphate additives is absorbed. Corn and rice cereals tend to be lower in phosphorus. Some high fiber cereals give you 1/3 of your daily fiber goal.
An egg breakfast has multiple possibilities. Try an omelet, egg sandwich, egg burrito, eggs benedict, hard boiled eggs or sunny-side up on toast, English muffin or a bagel half. For a complete meal add fresh berries or your favorite kidney-friendly fruit and beverage.
We've all heard that breakfast is the most important meal. Even if your stomach isn't rumbling it's a good idea to fuel up for an energetic day. Breakfast is one of the easiest meals to fix. Once you figure out a couple of favorites it's easy to create a breakfast habit!
For more breakfast ideas check out these recipes from DaVita.com:
Great Way to Start Your Day Bagel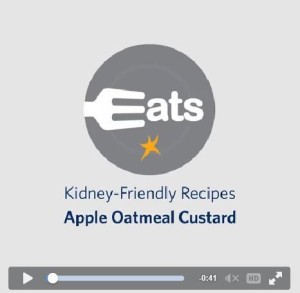 To view more recipe videos click the link and go to DaVita Kidney Care Kitchen–>DaVita Recipes. Comment on the ones you like.