The health and safety of our patients and teammates is our top priority. We are keeping a close eye on this situation and reinforcing the extensive infection control practices already in place to protect them. Click here to find videos and additional resources.
New Tools for Managing a Kidney Diet
Managing any kind of diet can be challenging, but with the right tools it becomes easier. Your dietitian may provide education and help with meal planning and fluid management. You can also find kidney diet information on DaVita.com. Our team has revamped the Diet and Nutrition section with new and improved resources to help manage your kidney diet. Visit the Diet & Nutrition page to use these new features.
Food Analyzer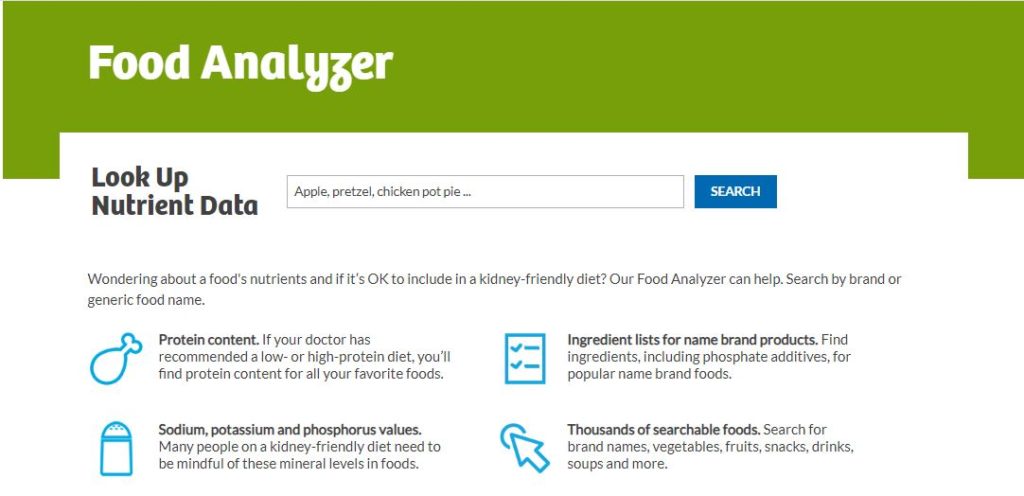 This tool lets you look up protein, sodium, potassium, phosphorus and other nutrients in foods. There are thousands of foods in the database. For brand name foods, an ingredients list is included so you can check for whole food ingredients as well as potassium or phosphorus additives.
Recipe Search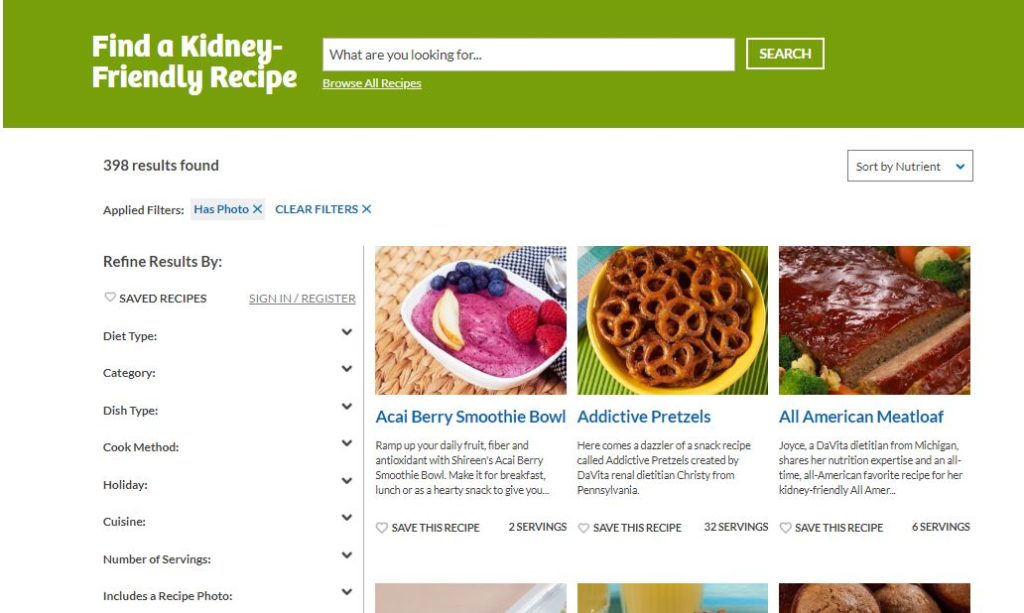 Previously, our 1,100+ kidney-friendly recipes could be found by scanning through recipe categories. We have kept the categories and added search filters such as diet type, dish type, cooking method, holidays, cuisine type and number of servings. You can even choose to see only recipes that include a photo if you wish to see the finished dish.
We've also added a "sort" feature so you can easily find the recipes lowest or highest in calories, protein, carbohydrates, sodium, phosphorus or potassium.
Saved Recipes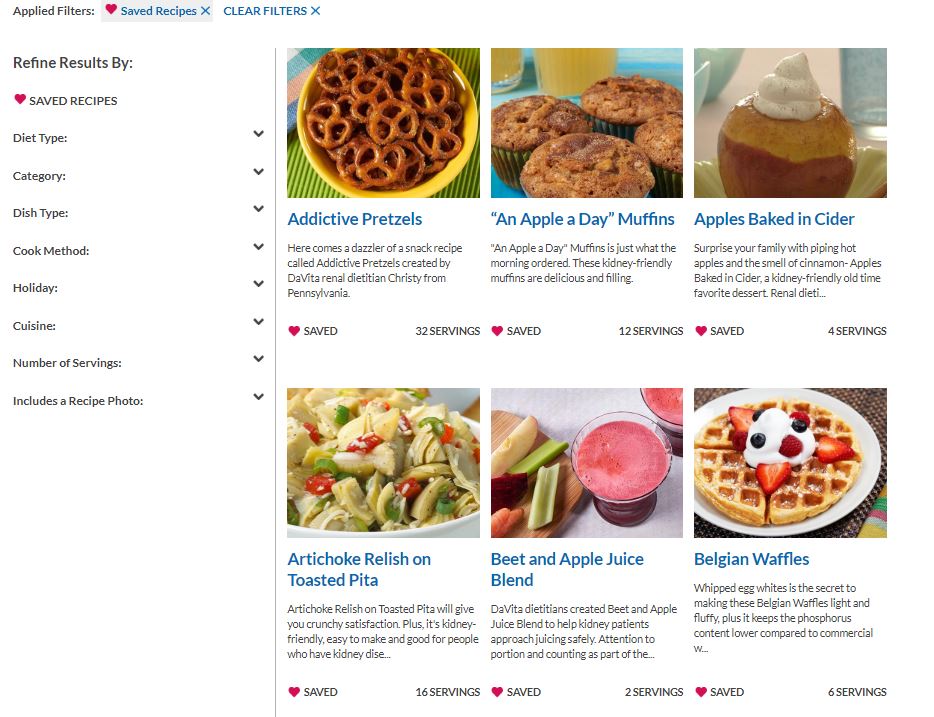 No need to print your favorite recipes. (Unless you want to, that is.) You can now click on a heart and easily save the recipes you want to try. Each time you return, you can add new recipes or remove the ones you no longer need.
Dining Out Guides
No more worrying about losing your printed guide for eating out. You can easily bring up our Dining Out Guides on your smartphone at the restaurant, bookmark or share with others, or print when needed. The 12 cuisines offered even include fast food and convenience store foods to help you make smart choices when eating away from home.
Recipe Collections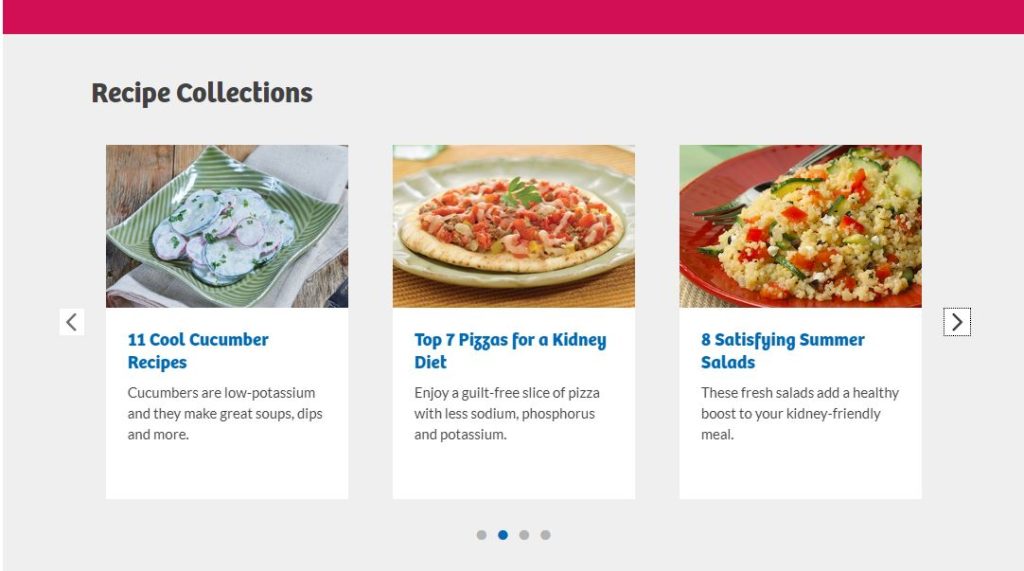 Are you looking for a satisfying summer salad? Or wondering what to do with the abundance of cucumbers from your garden? Scan through the Recipe Collections to get ideas on recipes for in-season foods, special occasions and more.
Kidney Diet Videos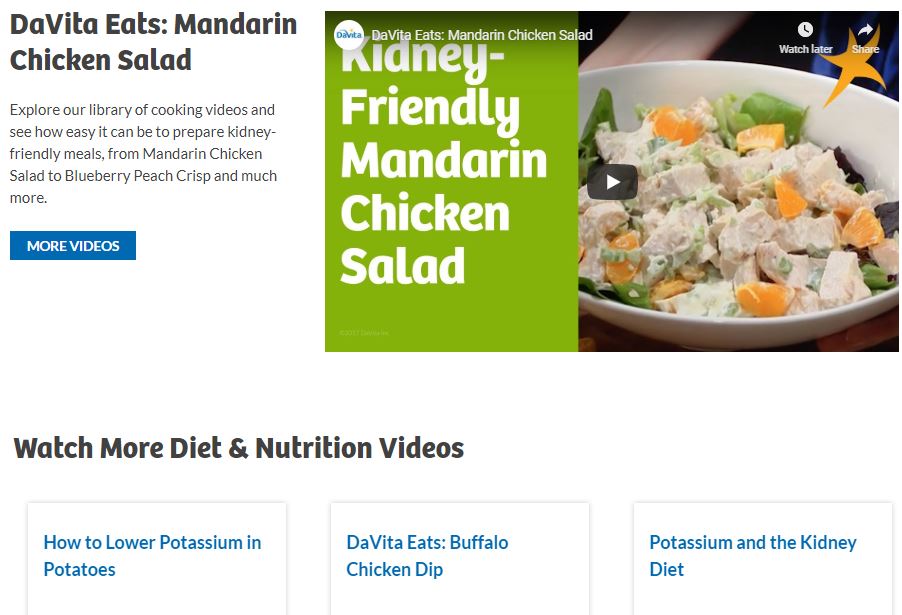 DaVita Eats videos gives a 1-minute look at how to prepare some of our most popular kidney-friendly recipes. Check out the newest diet and nutrition videos featuring DaVita dietitians.
Today's Kidney Diet Cookbooks Library
You can find over 30 Today's Kidney Diet cookbooks to download. In addition to recipes, each cookbook includes helpful diet and nutrition tips from DaVita dietitians, plus a guide for what to eat for your kidney diet.
Kidney Diet Tips Blog
Now you can find the most popular Kidney Diet Tips blog posts with pictures and descriptions, and easily find the newest posts or search for the topics of interest to you.
I hope you take a closer look at these new and improved features to find the ones that are most helpful to you in managing your kidney diet. The links below appear on all the Kidney Diet Tips blog posts to help you quickly find what you need.
Visit DaVita.com and explore these diet and nutrition resources:
This article is for informational purposes only and is not a substitute for medical advice or treatment. Consult your physician and dietitian regarding your specific diagnosis, treatment, diet and health questions.