The health and safety of our patients and teammates is our top priority. We are keeping a close eye on this situation and reinforcing the extensive infection control practices already in place to protect them. Click here to find videos and additional resources.
How You Can Bring Quality to Your Care
Good quality healthcare takes a team. You may have heard the words "the best way to feel better during dialysis and at home is to partner with your healthcare team." Do you know who the center of your healthcare team is? YOU! Yes, you have a team of experts at the clinic that can help guide you in improving your labs, fluid gains, dialysis adequacy, medication management and overall wellness. However, the only person that can make decisions about your care is you. So get involved, ask questions, and take ownership! After all, this is your life.
Five Tips for Engaging with Your Healthcare Team: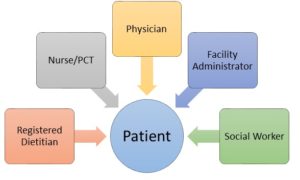 Know your core health care team and their names (Physician, Nurse, Patient Care Technician, Dietitian, Social Worker and Facility Administrator.) If you don't see a member of your team during your treatment, then ask to set up an appointment. During this appointment you can ask questions to help you understand your dialysis and feel comfortable about your treatment.
Ask questions and do research about your care – knowledge is power. Questions could be related to how well your dialysis is working, medications, diet/fluid and transportation and modality options. DaVita.com is a great resource for dialysis related information to get you started. DaVita Diet Helper is a useful tool for menu planning and tracking food intake online. The DaVita Health Portal provides lab results and health records to DaVita dialysis patients. Reach out to your dietitian if you need assistance in signing up on the website.
Attend all of your scheduled care plan meetings and participate in decision making. As a result, you will be more comfortable asking questions about your care.
Communicate changes to medication prescriptions from other physicians and over the counter drugs or supplements you are taking with your team. By knowing all of your medications (and doses), your kidney doctor can better manage your dialysis-related medications and help prevent over or under medicating. Knowing about your over the counter drugs or supplements can assist your team in helping you improve your monthly lab results.
Work with your team on developing ideas to improve labs and help make sure your dialysis is working well – you know you best. Who better to partner with your team and come up with your own plans?
Next steps:
Start researching on DaVita.com and ask your health care team for other useful resources.
Write down two questions for each member of your health care team to discuss during rounds or during your appointment.
Come up with an idea to improve one lab result on your next report and share with your team.
Taking an active role in your health care may help increase the quality of your care and quality of life. Let your team know how they can assist you in this journey!