Kidney Transplant Preparation
Getting ready for a kidney transplant? Transplant is a gift of life. You definitely want  to be prepared for when the time arrives. Both late stage chronic kidney disease (CKD) patients and dialysis patients may be eligible to receive a new kidney. For those who do receive a transplant, being as healthy as possible is important. One issue, malnutrition, can lead to poor wound healing and higher chance of infection after surgery. Therefore, getting ready starts with diet and lifestyle changes prior to transplant. Your goal is to keep your body as healthy as possible to insure you do your best after transplant and during recovery.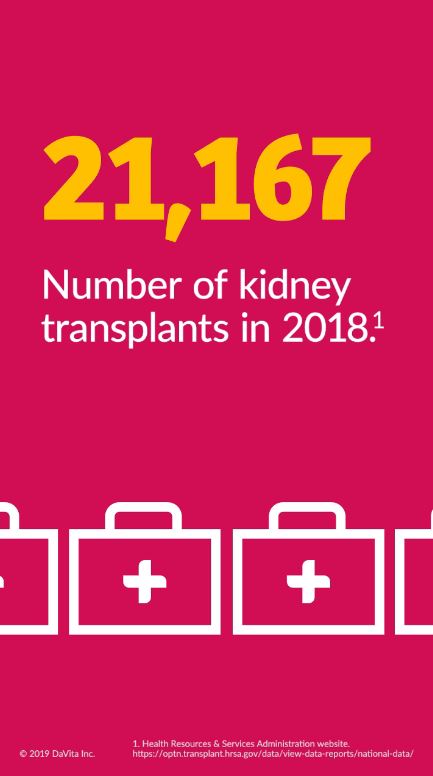 Diet Tips for Transplant Preparation
Learning about what you can do now will help you to be ready for a kidney transplant. The tips below provide food for thought. Follow up with your transplant team for more information on your individual goals.
Healthy Body Weight
It is common for transplant centers to have certain requirements for a person to get a kidney transplant. Body weight, measured as body mass index (BMI) is one requirement. Therefore, care must be taken to manage a healthy body weight.
For patients who are overweight, gradual, safe weight loss is encouraged through eating well balanced meals. These meals may consist of lean meats such as chicken or turkey, whole grains and fresh or frozen vegetables.
Learn about healthy ways to prepare meals. This can help to decrease the calories at a meal. Such methods include:
trimming the visible fat off meats and removing the skin from poultry
baking, broiling or grilling to reduce fat.
limit the use of butter, lard or shortening in cooking.
In addition, increase activity as you are able to help burn calories. Decreasing sodium (salt) intake and limiting fluids during the day may help with fluid balance.
Appetites may decrease due to gastrointestinal (GI) issues, tiredness or side effects of medicines. For those patients who are underweight, focus on small frequent high calorie meals and snacks during the day. This may assist in increasing calorie intake. The use of nutrition supplements may also help make up for the calories and protein missed during the day.
Healthy Bones and Adequate Protein Levels
Healthy bone maintenance is incredibly important. Reduced calcium absorption may be due to hyperparathyroidism, abnormal vitamin D metabolism or some medications. Paying close attention to calcium and phosphorus levels can help to ensure the protection of healthy bone.
Dialysis patients following a low phosphorus diet and taking prescribed medications can improve phosphorus control. Some high phosphorus foods that may be limited include some dairy products, nuts, seeds, dried beans and processed foods with phosphate additives.
As for protein, it is an important building block of bones, skin, blood, and muscles. Patients on dialysis need high quality proteins in their diet. Examples include meat, fish, eggs and soy products. Protein is needed to replace the protein that is lost during the dialysis process. CKD patients not on dialysis may need a lower protein diet to decrease protein waste build up in the blood.
Blood Fats and Blood Pressure Control
Elevated levels of total cholesterol, low density lipoproteins (LDL) and triglycerides increase the risk of heart problems. Some ways to keep blood cholesterol controlled for good heart health include the following:
a diet low in sodium
saturated fat and dietary cholesterol
adequate amounts of dietary fiber.
Diet After Transplant
After receiving a kidney transplant your diet will change. With a working kidney a normal potassium and phosphorus diet are possible. Watching fat and carbohydrate intake may become more important. Your transplant team will work with you to provide education on your transplant diet.
For more information read "5 Steps: How Do You Get a Kidney Transplant?" and check out DaVita's transplant resources.
References
 https://www.healthxchange.sg/food-nutrition/food-tips/organ-transplant-nutrition-tips-before-after -Accessed 5/1/19
 https://www.kidney.org/atoz/content/nutritrans – Accessed 5/1/19
 https://www.renalandurologynews.com/home/departments/nutrition/nutritional-care-before-renal-transplantation/ -Accessed 5/1/19
 https://www.nkfs.org/prevention/healthy-eating/nutrition-in-kidney-transplant/ -Accessed 5/1/19
Additional Kidney Diet Resources
Visit DaVita.com and explore these diet and nutrition resources:
DaVita Kidney-Friendly Recipes
This article is for informational purposes only and is not a substitute for medical advice or treatment. Consult your physician and dietitian regarding your specific diagnosis, treatment, diet and health questions.