The health and safety of our patients and teammates is our top priority. We are keeping a close eye on this situation and reinforcing the extensive infection control practices already in place to protect them. Click here to find videos and additional resources.
Benefits of Plant-Based Eating in Kidney Disease, Part 2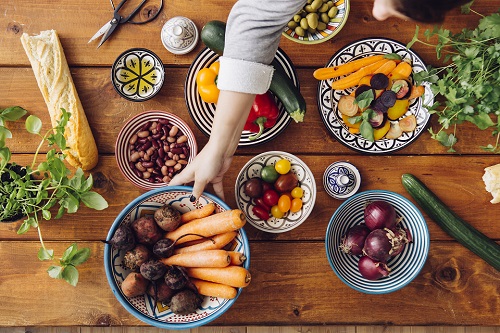 In Part 1 of this two-part series, we discussed how plant-based diets affect weight, blood pressure, diabetes and inflammation.
In this second part, we'll look at how plant-based diets can improve metabolic acidosis, a condition than can occur in people with chronic kidney disease (CKD) and patients on dialysis.
Plant-Based Diets and Metabolic Acidosis
Acidosis is a condition when there is too much acid in the blood. Acidity is measured on a pH scale, which ranges from 0 to 14, with 7 being neutral, less than 7 is acidic, and greater than 7 is alkaline or basic.2 Pure water has a pH of 7. Normal blood pH ranges from 7.35-7.45, slightly alkaline.
Metabolic acidosis can speed up the progression of kidney disease.3 Standard treatment is sodium bicarbonate tablets prescribed by a doctor.4 Sodium bicarbonate improves metabolic acidosis and slows the progression of kidney disease. However, the sodium can worsen hypertension and may cause fluid weight gain.
Diet plays a role in metabolic acidosis. Western-style diets are high in acidic foods that contribute to metabolic acidosis.3 Acidifying foods include meat and cheese as they are broken down to sulfate, an acid, in our digestive system. On the opposite end, fruits and vegetables are broken down into bicarbonate, a base, in our digestive system so it makes the body more alkaline (higher pH level).
Recent Studies
In a research article in BMC Nephrology, researcher Toba and team studied the association of dietary acid load with CKD progression using a self-administered diet history questionnaire in 96 outpatients with CKD in Japan.3 Based on the questionnaire results, those with a higher dietary acid load ate more animal protein and less protein from plant sources. Those with lower dietary acid load ate more protein from plant sources.
The decline in estimated glomerular filtration rate (eGFR) was significantly greater in patients who consumed more animal protein. The authors concluded that lower intake of fruits and vegetables increases dietary acid load, which could speed up CKD progression.
In another study, Goraya and other researchers compared two groups with stage 4 CKD: one group treated metabolic acidosis with sodium bicarbonate tablets, and the other treated it with a fruits and vegetables diet that produced more base in the blood.4 After one year of intervention, eGFR and blood potassium were similar between the groups. The authors concluded that base-producing fruits and vegetables are an effective alternative treatment to sodium bicarbonate tablets to improve metabolic acidosis and slow the progression of CKD. Fruits and vegetables did not cause high potassium levels (hyperkalemia).
Summary
Recent studies have found that diets high in fruits and vegetables lower the dietary acid load, which can slow the progression of CKD. The two studies discussed did not find that diets high in fruits and vegetables caused high potassium levels. Eating more fruits and vegetables and limiting animal protein may be an effective alternative to sodium bicarbonate for the treatment of metabolic acidosis.
References:
Additional Kidney Diet Resources
Visit DaVita.com and explore these diet and nutrition resources:
This article is for informational purposes only and is not a substitute for medical advice or treatment. Consult your physician and dietitian regarding your specific diagnosis, treatment, diet and health questions.